Carnival of 100 Servers - Rookie King
May 15, 2020
League of Angels - Heaven's Fury is about to hit a milestone! The S100-Oracle Knight-EST will be opened on 19 May! Therefore, we prepared a Carnival for all players! Players participate our event can get wonderful rewards and an opportunity to customize server100 name.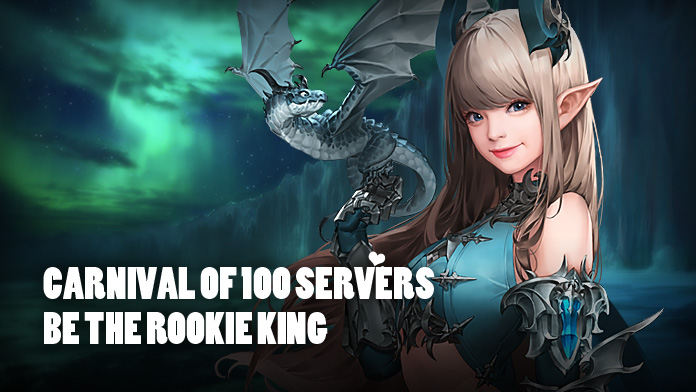 Event Time: 21:00 15 May to 00:00 20 May
Entrance: https://www.facebook.com/LeagueOfAngelsHF
Rewards Sent Time: Within 7-working days after the event ends
Event Rules:
1. The big surprise is here! Want to be the Rookie King of the S100? You even have the chance to customize this server name! The rule is simple, to be the best one in Server100 which means you have to be one with the highest BR 7 days after the Server Opening. We will check the winners at 00:00 (Server100 Time) 27 May! (Please check the below rules of renaming the server)
Are you the strongest one, we will see! If you are the best one, we will contact you, don't worry about it!
2. The second event is easy! Follow our Facebook page! When our followers reach 29K, we will send the rewards (5*50,000 Diamonds); followers reach 31K, we will send the rewards (5*50,000 Diamonds + 5*1000 Pink Diamonds); followers reach 33K, we will send the rewards (5*50,000 Diamonds + 5*1000 Pink Diamonds + 100 Enhancement Stones).
Stop waiting! Follow our Facebook to get the latest news and wonderful rewards!
3. The Third event is to leave your message and in-game name & Sever (e.g., Michael & Server 15) at our post of Carnival of 100 Server! All players who left the correct in-game name & server can get the rewards! The rewards will be sent when the event over via in-game mail. (Please notice that we only record one message for one Facebook account, and the rewards are also only sent to one character, the other will not be counted.)
Leave your nice wishes or suggestions and get rewards this time!
Rules on Renaming the Server:
1. Please do not name the server after a country or involve religion and politics that may cause controversy.
2. The server name should contain only alphabet letters with a maximum of 20 characters.
3. We may ask to change a new name if the candidate name is not qualified.
We hope all of our players enjoy the League of Angels - Heaven's Fury and continue to support our game!