Get the Equipment of Various Systems at Spin to Win
July 07, 2020
Dear Warriors, we have optimized our Spin to Win, and from 8 July to 13 July, players have the chance to get Equipment of various systems. These equipment can help players to increase BR. Also, abundant rewards, including Titles and gorgeous Outfits are waiting for players at Spin to Win.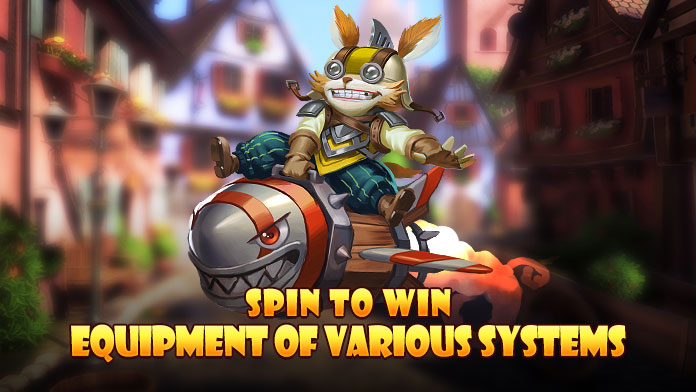 >>Entrance: Spin to Win
>>Event Time: 8 July to 13 July
>>Equipment of Various Systems (Wings example)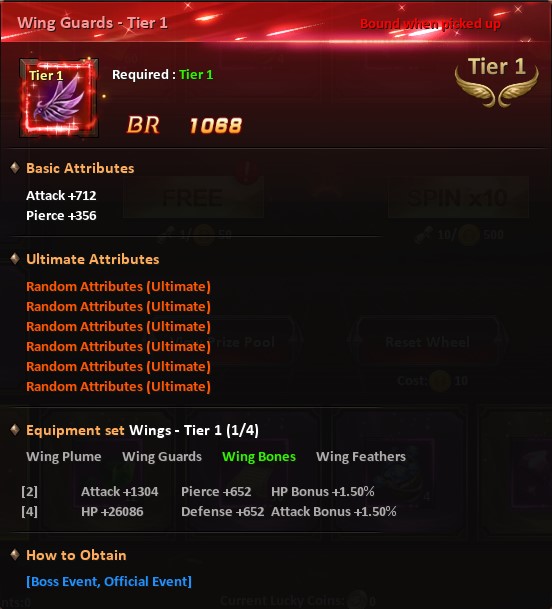 Event Rules:
1. Drawings will prioritize spending Spin to win Vouchers, Vouchers will be removed after the event ends.
2. Spinning the wheel 1 time will cost 50 Gold. Players also can choose Spin X 10 or Spin X 50. Each spin grant 1 Point and 1 Lucky Coin, and 10% Luck per spin.
3. When Luck reaches 100%, a Heavenly reward is guaranteed. Each time a Heavenly reward is won, the Luck progress bar will be reset.
4. All-wheel rewards are from the prize pool. There is a maximum limit on the Heavenly rewards you can obtain.
5. You can spend 10 Gold to reset the whee 1 time, which will also reset the prize pool.
6. After obtaining a Heavenly reward, the corresponding slot will be temporarily removed. When all Heavenly rewards have been obtained, the wheel will be reset for free for 1 time.
7. When you have obtained the maximum number of Heavenly rewards, Heavenly rewards will disappear from the prize pool and be replaced by alternative rewards.
8. Lucky Coins can be spent in the Exchange Shop to redeem for rewards.
9. Earning enough points will put you on the Points Rankings, where you can compete for Normal Rewards and Super Rewards. Rewards will be sent via in-game mail after the event has concluded.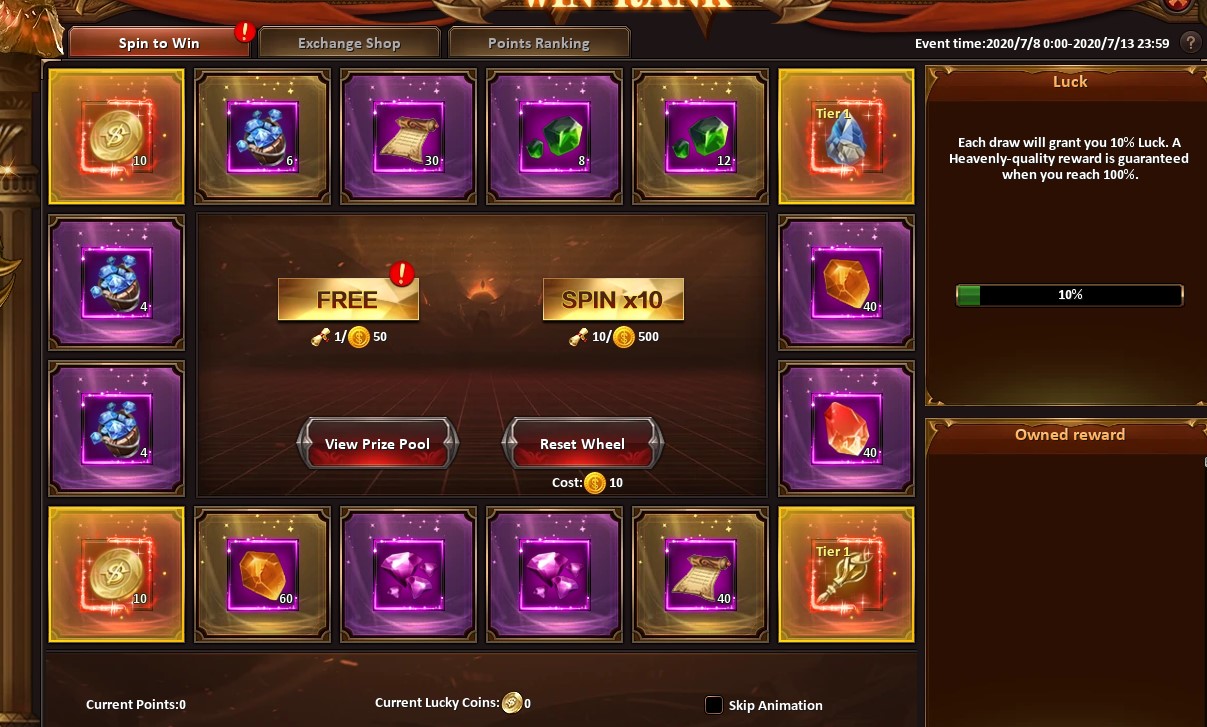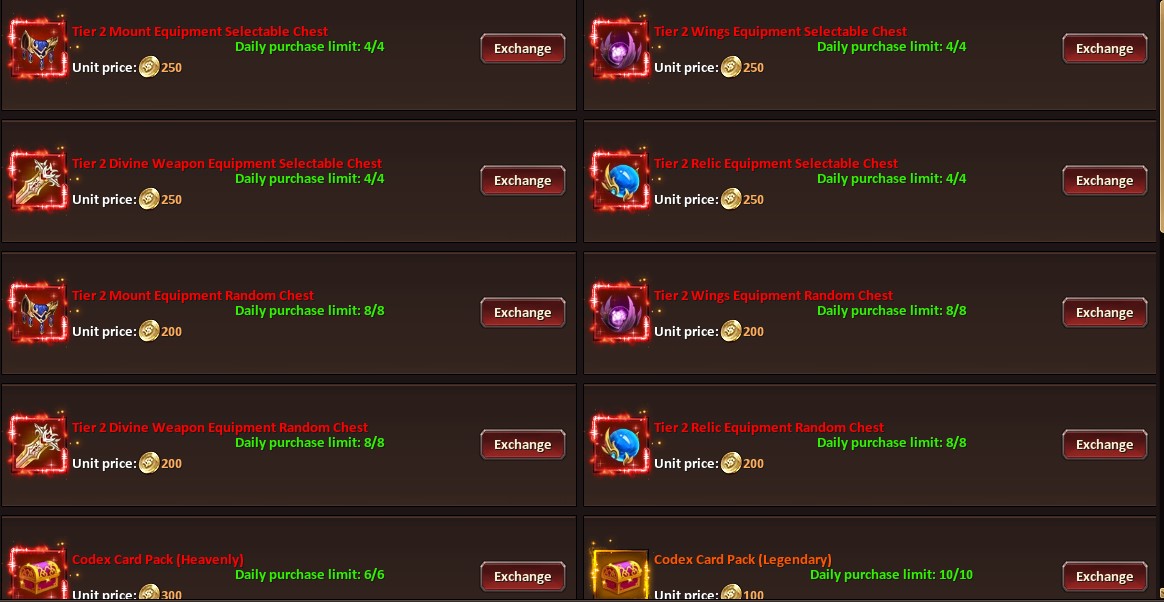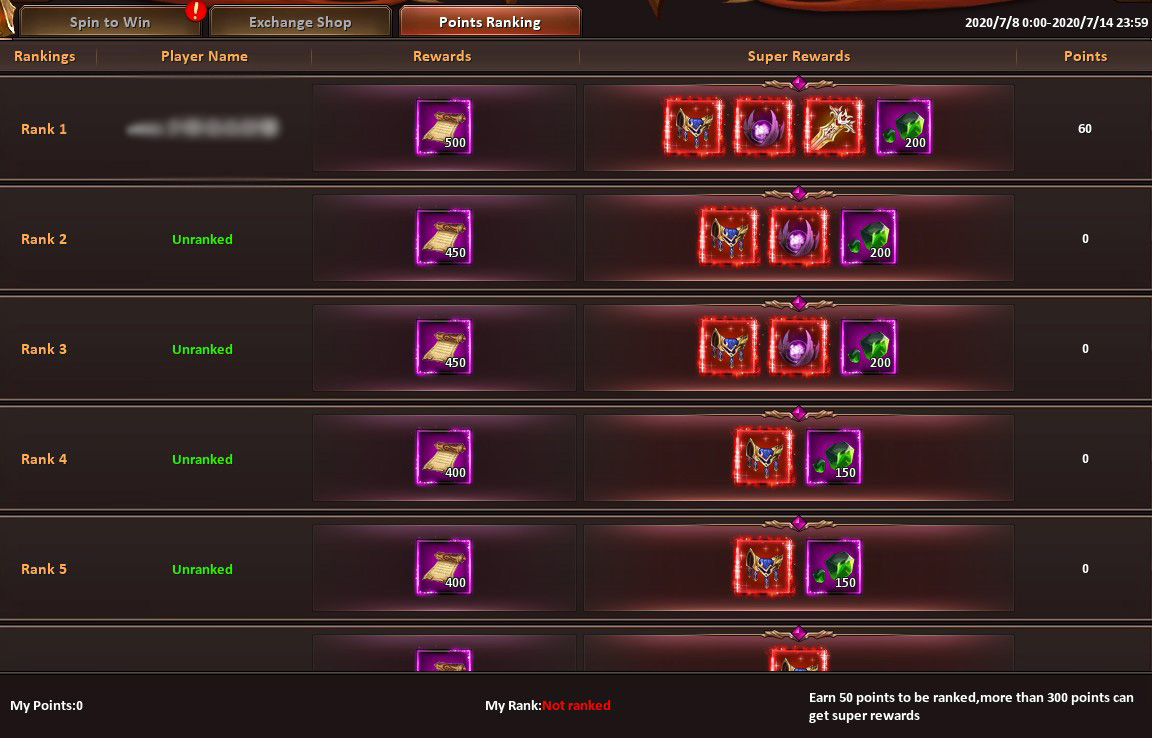 Note:
Please note that the above contents might be adjusted due to changes in the development plan. Final updates will be determined in-game.