Core Glyphs and Equipment of Various Systems
May 28, 2020
Two features will be opened after the version update. Core Glyphs and Equipment of Various Systems. Let's take a preview.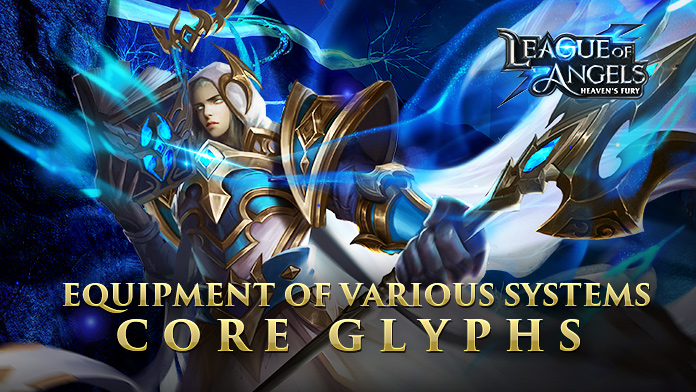 Core Glyphs
The Core Glyphs of Seal System will be opened after the version update. When players challenge the 35 Floors of Tower of Eternity successfully, the mosaic position of Core Glyphs will be unlocked. Players can insert the Glyphs to boost their BR.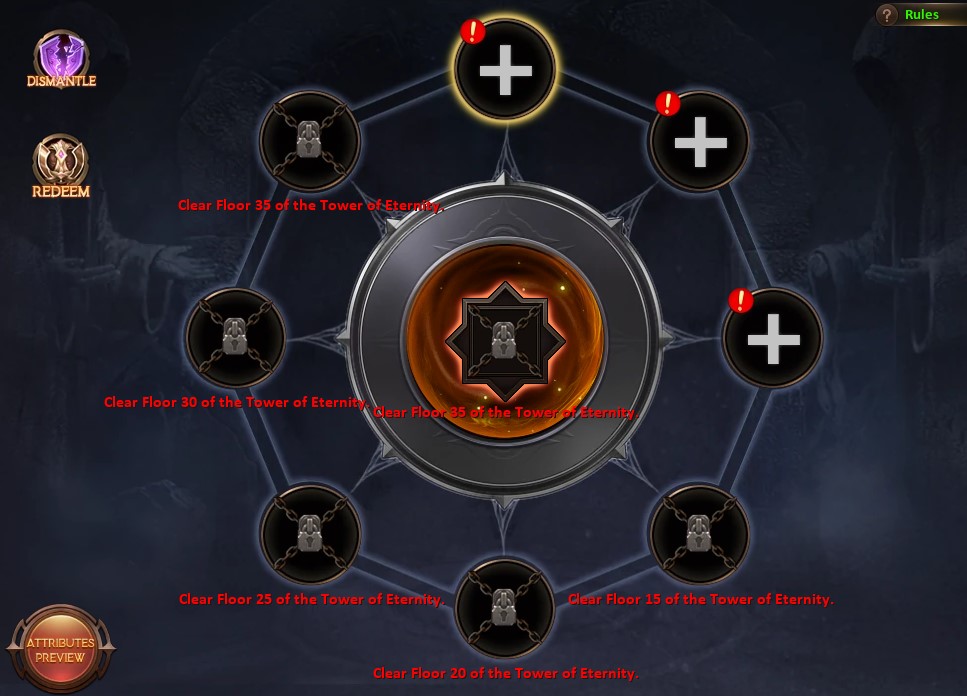 The Core Glyphs only can be redeemed in Glyph Exchange. Players need to get the Glyph Crystal to exchange the Core Glyphs. The Glyph Crystal will be dropped from Bosses and Operation Event.
Tips for all players, Dismantle the Core Glyphs will get 100% Glyph Crystal return. So players can exchange the Epic Core Glyph when the Glyph Crystal enough, then collect enough Glyph Crystal and Dismantle the Epic Core Glyph to exchange the Legendary Core Glyph.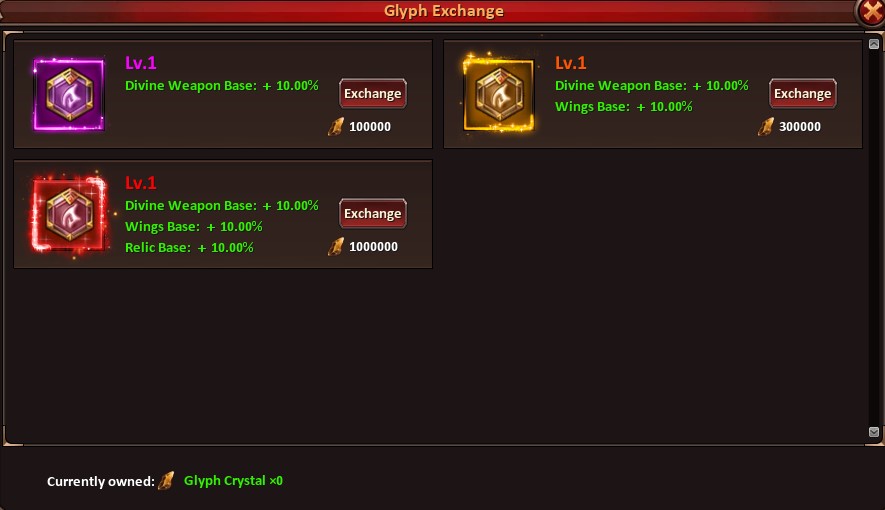 Equipment of Various Systems
Now, we offer different enhance ways to help players boost BR. Players have the chance to get various equipment for Spirit, Mount, Wings, Relic, Shield, Star Array and Divine Weapon.
Equipment of Spirit

Headpieces
Soul Devices
Tomes
Exquisite Soul
Equipment of Mount

Saddle
Stirrups
Reins
Horseshoes
Equipment of Wings

Wing Plume
Wing Guards
Wing Bones
Wing Feathers
Equipment of Relic

Orb
Gem
Magic Core
Magic Seal
Equipment of Shield

Shield Mold
Shield Core
Refined Metal
Shield Soul
Equipment of Star Array

Star Pattern
Astral Soul
Star Atlas
Magic Stone
Equipment of Divine Weapon

Scabbard
Weapon Seal
Weapon Soul
Divine Steel
All of these Equipment can get from Operation Event and Drop from Bosses. Also, it can be crafted into higher Tier Equipment, 2 Tier1 Equipment can be crafted into 1 Tier2 Equipment and 2 Tier2 Equipment can be crafted into 1 Tier3 Equipment.