Introduction of Battle for the Holy Grail
June 04, 2021
Dear Warriors, hope you enjoy your time in our game. We will update a new event: Battle For The Holy Grail. Want to join it? Let's take a look at the Battle For The Holy Grail Event!
This is a Multi-players battlefield. Players need to earn holy grails, advance to the finals, even win grand rewards in the final battles.
Below are basic information of Battle For the Holy Grail players:
Level Requirement:Level 300
Event Time: 8:30PM - 8:50 PM [Wednesday, Friday]
❗❗Attention:
To participate in the event successfully, players need to sign up in the time below:
1. For Wednesday's event: From Monday (12:00 am) to Wednesday (18:00 pm) Wednesday's event.
2. For Saturday's event: From Thursday (12:00 am) to Saturday (18:00 pm)
Players who have not signed up cannot participate in the event.
How to participate in this event?
Enter "Battle Lobby", click "Battle For The Holy Grail Event" to enter the battlefield.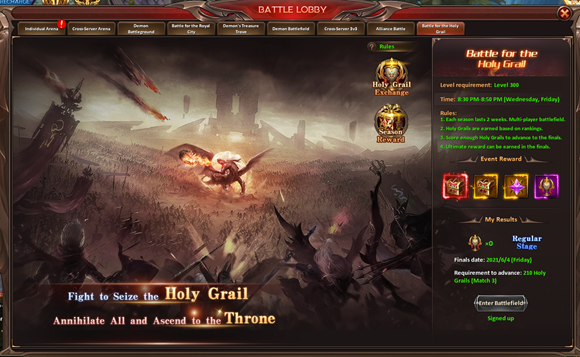 Rules, the amount of your Holy Grails, stages can also be seen on the right side.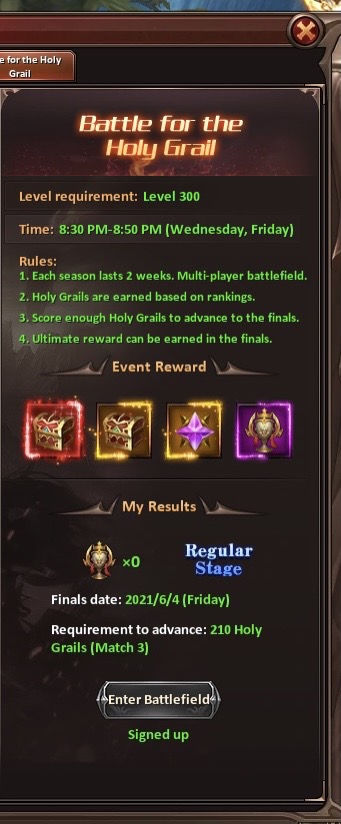 Here is the Coss-Server Battlefield information players need to know:
1. The event will start 4 days after server opening
2. During the event, players will be randomly assigned to three factors.
3. During the event, reach a certain number of points to earn generous rewards
4. The players with the most points will earn a title as the grand prize.
So how to get points and earn rewards?
Players who collect the Holy Grail will get the Holy Grail buff, which helps the holder continue gaining points. The Grail holder can also gain points by killing other players.
Other players can get points by attacking the Grail holder. If the Grail holder is killed, the attacker gains points and the Holy Grail.
There are three types of stages: regular, advancing, finals. Scoring enough Holy Grails can advance to the next stage. Finally, the grand reward will be sent according to the total points.
Holy Grails can also be taken to exchange materials: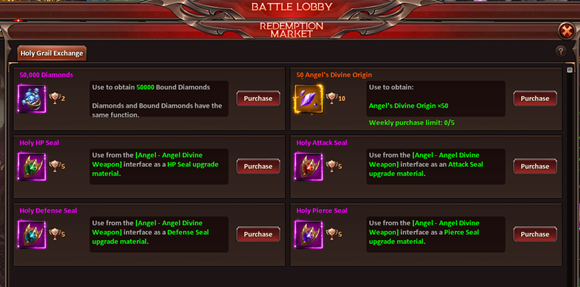 Players can also get season rewards according to rankings: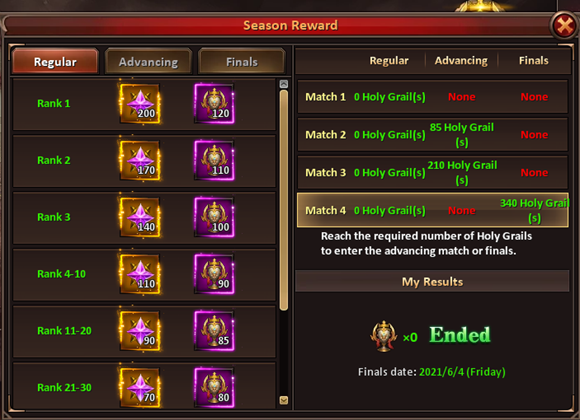 If you want to collect the Holy Grails, win the grand reward, don't let others attack you!